Finishing Floors with Waterlox
Our 150 year old heart of pine wood floors needed finishing; however, because our floors are only one board thick (no sub floors in old houses), heavy sanding was not appropriate. Another issue was that we had no idea if our floors were ever finished. Many had been waxed.
Although we could use urethane, we decided to use a tung oil varnish finish called Waterlox (Waterlox products on Amazon). It penetrates the wood and if it wears, all that is needed is to apply a new coat; no sanding. Again, because our floors are only one board deep, we wanted to minimize any heavy sanding.
We aren't going into application detail here as the Waterlox web site is very explicit on how to apply the coating. The only changes made were to
Use a foam brush instead of a lambs wool applicator because of the small area being finished (34 sq. ft).

Sand between the second and third coat. This was necessary as some particles were embedded in the coating. Normally this shouldn't be a problem. I think is was from particles caught in the floor board cracks. I used 320 grit sandpaper after which I wiped the sanded spots with turpentine. The Waterlox company discusses this.

Be sure to apply enough of a finish with each coating. One quart covers 125 sq. ft.
Waterlox is expensive, but I think the look and ease of future refinishing make it worth while. The final look is really spectacular.
Materials used: Waterlox VOC Compliant Sealer/Finisher, Waterlox VOC Compliant Satin Finish, Minwax Wood Finish Penetrating Stain-Colonial Maple 223, and Oderless mineral spirits.
We needed to make sure there was no wax remaining on the floor. Used oderless mineral spirits. Brushed it on the boards and let it soak, then wiped up using a rag. The hardest part was getting all of the gunk out from between the boards. More information.
Sanded with an orbital sander using 60 grit to remove any finish. Followed with sanding using a 100 grit paper.
The floor was then stained with Minwax Wood Finish Penetrating Stain-Colonial Maple 223.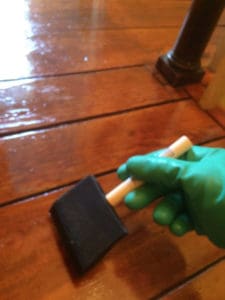 Al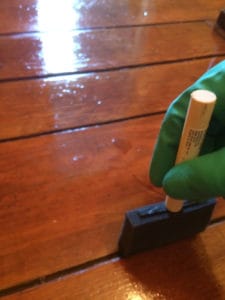 though the company recommends a lambs wool applicator or bristle brush, I saw that you can also use throw away sponge applicators which were perfect for a small area. After the first coat, you can see that the Waterlox is being absorbed differently on each board.
Product information
Waterlox

 (on Amazon)
Help support this site